Challenge
Nevotex was previously faced with the challenge of managing and creating a digital solution capable of selling their complex product range in many different units. In addition to calculations and summation of discounts based on numbers, the also handle units such as square meters, running meters and cubic meters.

The solution that is integrated with Microsoft NAV also includes advanced calculation templates that collect shipping prices from DHL, which are based on weight and volume. In order to handle real-time data management with high performance requirements, a separate integration module has been developed, developed by Softgear and integrating with NAV.
Dynamicweb as a solution
Nevotex B2B solution is today a state-of-the-art solution that complies with the company's powerful expansion with expanded range, more customers and users in larger markets that enable establishment in additional new countries in the future. It allows Nevotex to focus on their core business and to provide digital support for to international dealers.

Through real-time integration, customers can log in and access all their order history, prices, and other current content. With these features combined, it's much easier to place orders through the ecommerce solution, either by adding a brand new order or by using the re-order feature for saving time. For the majority of Nevotex customers, the new web solution adds value and convenience to the ordering process.
Resultate
Nevotex's focus as a distributor, sales and marketing organization must ALWAYS be to monitor its market and maintain its leading position in the market. This is now possible with the new web solution developed on Dynamicweb's platform, where internal staff but also external customers now have increased accessibility through the responsive solution.
A revolutionary solution that strengthens the company's position as a leading player.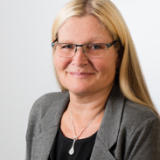 "Our websolution managed to adapt to 2018 expectations of a digital solution where we have thousands of internal and external users. Our keyword triggers that we have had as unique selling points in this process, have been; Facelift, Scalability, Product Presentation, Responsiveness, and Easy Administration Interfaces. We have a great need to provide our 7800 users, divided into 4 markets in different countries, as much flexibility as possible through digital user support. Our customers have to be able to easily choose delivery address for their orders and manage their user profile in a rational way. We have now created the absolute best solution for our organization, which gives us a major competitive advantage over others."
- Mona Manley, Sales Manager, Nevotex AB